Coin Collecting at the Safir House
Perth Mint Dugong One Ounce Silver Coin - 2012 ANDA Show Special
Tue Sep 26 18:41:21 2023
---

One of the nicest of these is the One Ounce 99.9 Silver proof of the Australian Dugong for the 2012 Perth ANDA Coin show. This wonderfully colored coin has a reverse coloration where the background is colored but the device, the Duggong, is finally etched into the coin, and struck in a way that gives great mass to this aquatic mammal, while still presenting a feeling of weightlessness. Related to the North Amaerican Manatee, this gentle creature is a salt water vegitarian.

The Duggong ranges from Northern Australia to Indonesia, with particular concentrations in Sharks Bay and Northern Australia. It has been hunted by oboriginal tribes for thousands of years, and previously by modern Western populations. It is considered vernable to extinction. Personally, I don't think of food when I see this animal, but I'm not a starving aboriginal.

To Learn more about the Duggong see its wikipedia entry.

The coin itself is one of the best ever done by the Perth mint and right up there as one of the great coin designes of the decade.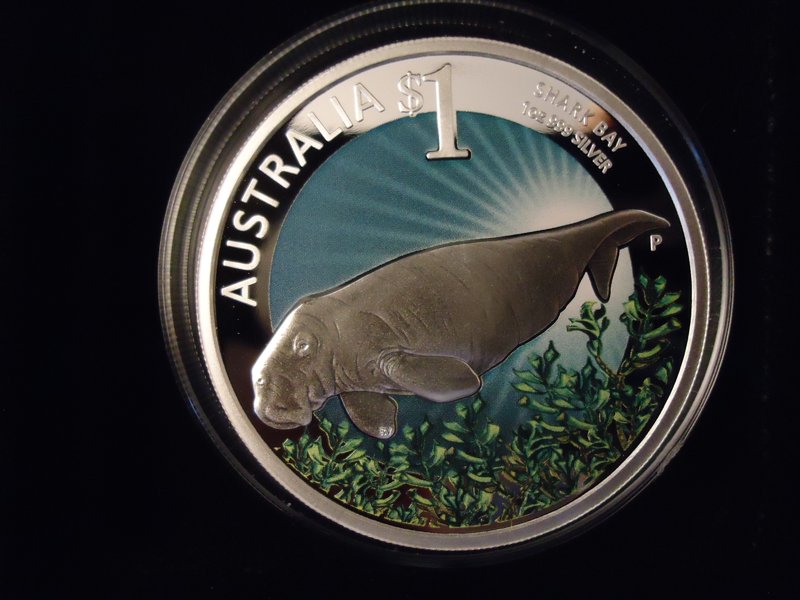 Do yourself a favor and look at the close up of this coin and remember that the animal itself has no color. It is just a wonderful coin.
Here is a Archive of Dugong Images.

---
The Safir Family Internet Coin Library: Foriegn Coins.
Several mints from around the world make exciting coin designs in circulating alloys, silver and gold. Among my favorites are the Perth Mint in Austrailia which produces a variety of coins for nations mostly through out the Pacific Rim. The Neatherlands has also produced some interesting designs, and several private US based mints have produced foreign currency on contract, include the Franklin Mint which has produced many Israeli Coins. Our interest in foreign coins has been nominal but rapidly growing as it seems that US designs are so stuck in the mud. Also, foreign mints are creating bold new designs with color and bimetal designs that are both eye catching and fun.