Coin Collecting at the Safir House
1965 British Churchill Crown
Thu Sep 28 10:50:12 2023
---
---
Churchill 1965 British Crown
In 1965, Winston Churchill, who had often been scorned in post World War II Britain, was memorialized after his death with this lovely, although controversial, coin. The design is often described as ugly, although that might be a left handed admiration of this great statesman whose distinctive profile, while universally recognizable, is not graceful. Too me, the design is one of the truly great designs, and one of the greatest portraits ever to put on a coin.

Made of cupro-nickel, the coin was designed by Arnold Machin with the Churchill Portrait after work by Oscar Nemon, and was the first British coin to have a portrait on it other than Royalty since the time of Cromwell.

It seems that two varities was created. A common for circulation and a statin finished one.
The reverse of the coin is so great, I forgot to even photograph the obverse with its common portrait of the young Queen Elizebath II.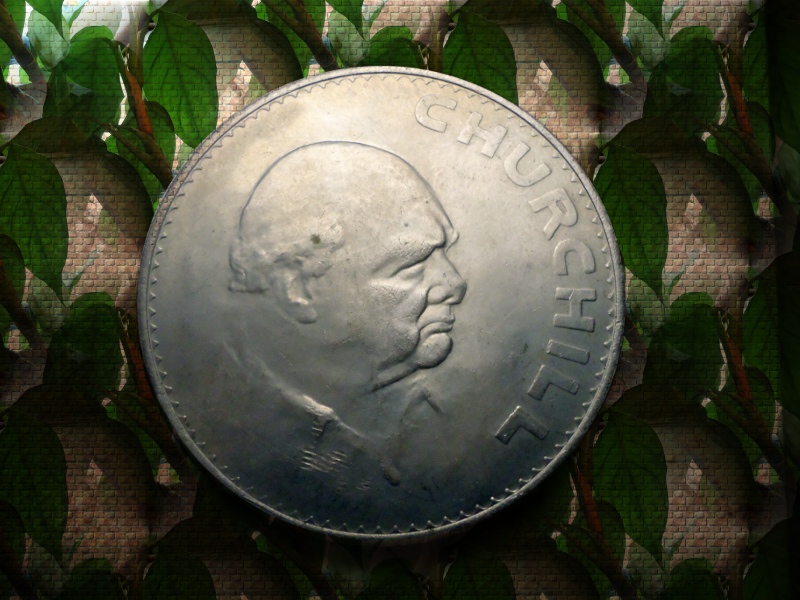 1965 Churchill Crown
---
The Safir Family Internet Coin Library: Foriegn Coins.
Several mints from around the world make exciting coin designs in circulating alloys, silver and gold. Among my favorites are the Perth Mint in Austrailia which produces a variety of coins for nations mostly through out the Pacific Rim. The Neatherlands has also produced some interesting designs, and several private US based mints have produced foreign currency on contract, include the Franklin Mint which has produced many Israeli Coins. Our interest in foreign coins has been nominal but rapidly growing as it seems that US designs are so stuck in the mud. Also, foreign mints are creating bold new designs with color and bimetal designs that are both eye catching and fun.